Katy Ross of Night Song Native Plant Nursery is many things, including a potting medium mixologist.
When nursery folk gather, the talk turns to dirt. Basically, they gossip about dirt - the variability in quality of some soils, the merits of others, what they add to it, and how far they go to get it.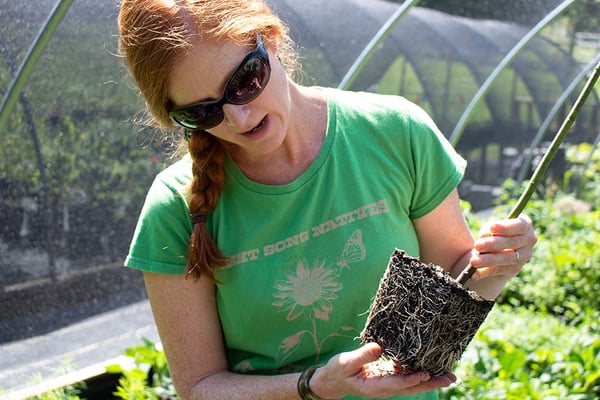 The Benefits of Using a Soil3-Based Potting Mix
Before Katy started using Soil3, she had an impressive, but elaborate and time-consuming, potting mix she crafted by hand using composted pine bark, peat moss, blood meal, worm castings, slow-release fertilizer, iron, and lime.
Why mix it yourself? To control the quality and keep it consistent. Third party nursery mixes can be variable – sometimes they have too much compost in them or sometimes none at all and the "mix" is 100% bark.
Consistent potting mix quality is important in a nursery – when you're watering your plants (your inventory) you want the mix to be uniform throughout the nursery so that it responds in a consistent way to your watering routine. If the potting medium is variable, either with too much or too little moisture retention, then some plants dry out faster or other pots could stay too wet, too long.
Starting in spring 2018 Katy changed her mix to include Soil3, composted pine bark, feather meal, and a slow release organic fertilizer. This simplified recipe takes less time for her to craft and it gives her plant inventory what it needs to thrive.
Katy had an ah-ha moment that nudged her to change her mix to include Soil3 for the health of her plants.
This is what happened. She potted up Jacob Cline bee balm (Monarda didyma) - some in her elaborate mix and some in the simplified Soil3 mix. One day she took a look and saw the better plants growing in her Soil3 potting mix.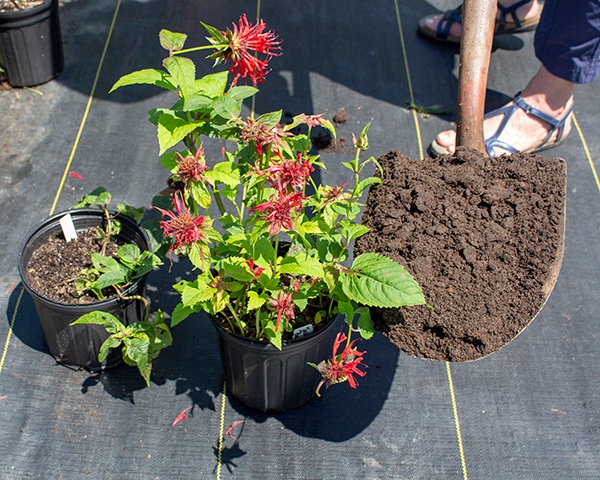 Jacob Cline Bee balm in her old potting mix (left) and in her new Soil3-based mix (right). Both were divided and potted up at the same time.
Katy's new Soil3-based formula saves her time, while giving her the consistent potting medium she needs to grow her plants. Plus, her plant quality improved. She still mixes her own, but no longer mixes "everything" into her medium.
Soil3 is OMRI Listed
Astute organic growers know to look for OMRI Listed products and Katy specified this credential by name. Twice.
She uses only OMRI or organic products in her soil mix. Since Soil3 is OMRI Listed – and therefore a top shelf ingredient – it fits right into her organic program.
Those four initials stand for Organic Materials Review Institute. We've written about why it's so important in another article where we also explained What OMRI Listed Means.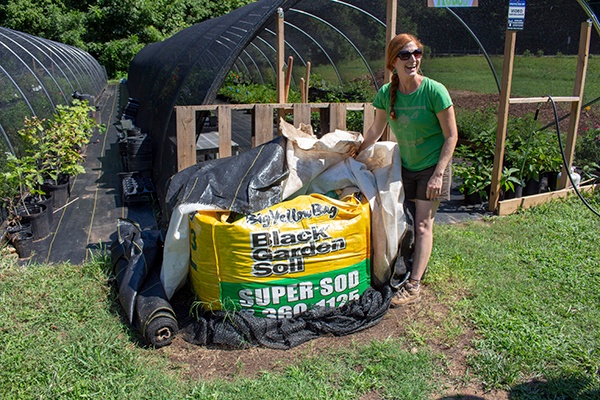 Propagation
The native plants at Night Song are grown from seeds or division using organic practices. Cultivating genetic diversity via seedling-grown plants is one of the philosophical guiding principles of native plant growers, including Katy.
She propagates some plants by division, like the Jacob Cline bee balm mentioned above – this one is a superior mildew-resistant variety and its mildew resistance can only be preserved through division.
However, most Night Song plants are seedling-grown. Katy has tons and tons of perennials like milkweed (Asclepias), spike gayfeather (Liatrus spicata), and swamp sunflower (Hibiscus coccineus).
Even trees like pawpaw (Asimina triloba) and shrubs like beautyberry (Callicarpa americana) are grown from seed. Many tree and shrub seeds are hard to find, so she buys small plants from other nurseries and pots them into one gallons to sell when they get bigger.
For this seedling work of hers, Katy now uses her Soil3 mix to sow seeds. It's light enough for great seed germination while providing nutrients and moisture retention.
Katy Found Her Calling in Night Song
Katy has been working in nurseries since she was 19. Her knowledge base is astounding, yet she's very casual and matter-of-fact about all she knows. You can read on her own website about her degree in horticulture from Gwinnett Tech and her master's degree in education.
What she told us in person is that she found her calling when she read Douglas Tallamy's book, Bringing Nature Home. She asked if we had heard of it. When we nodded that we had, she emphasized that we should read it.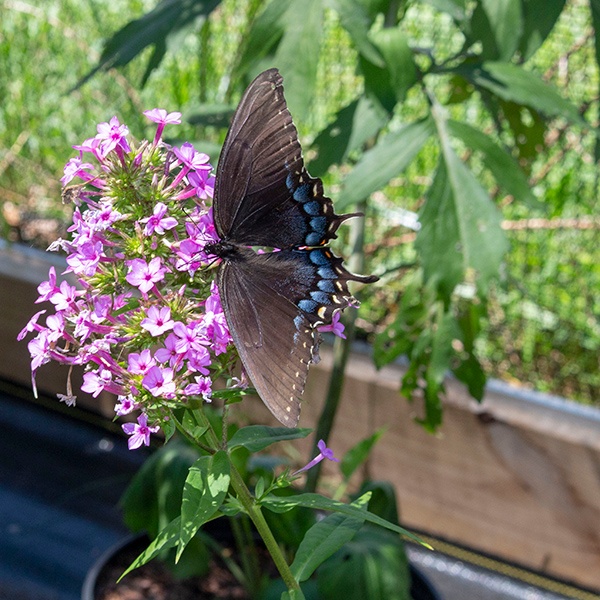 She relayed that she's always been an environmentalist, but this book inspired her to ask, "What can I do?" Her answer was, "I can start a native plant nursery."
Six years later, we're chatting with her in the hot July sun about Soil3 organic compost and swooning over her beautiful plants potted up in neat rows.
Natural Education
Back to the education bit.
Katy is an educator and a scientist – on her and her husband's 12 acres she took us across a stream to their pawpaw patch and to a grove of walnuts growing in a perfect circle. I learned the name of a yellow wildflower I've seen along the roadside, Smallanthus uvidalius. Back at the nursery, she rubbed her hands in Soil3 to show how the male butterflies will feed on soil for the minerals.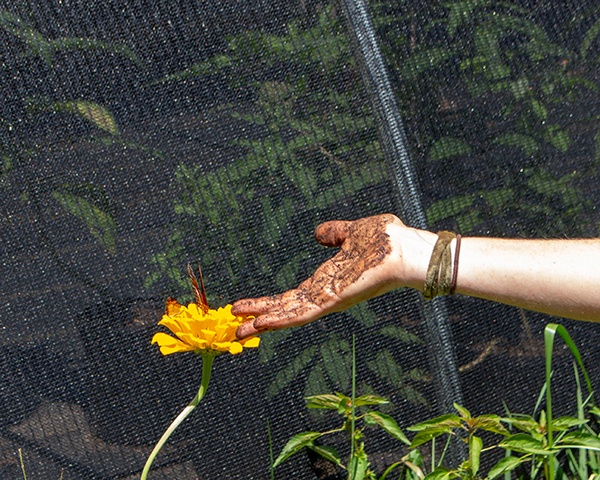 She rubbed her hands in Soil3.
She is knowledgeable about butterflies and the favorite plant of the Monarch butterfly - milkweed. She cautions against planting the tropical milkweed because it throws Monarchs off their migration patterns – they stay in our area too long and will be killed by frost. Turns out there are 30 species of milkweed native to Georgia for gardeners and butterfly enthusiasts to plant, so let's plant those instead!
Asclepias tuberosa, the orange milkweed, is perhaps the best known, but it is also challenging to grow in pots from seed (again, a reminder to preserve the genetic diversity of a species by growing from seed). Katy relayed that the potting mix is either too wet or too dry and that milkweed likes it "perfect." When she started sowing seeds into her Soil3-based mix her success rate became 50% better. Yes, my heart skipped a beat when I heard this.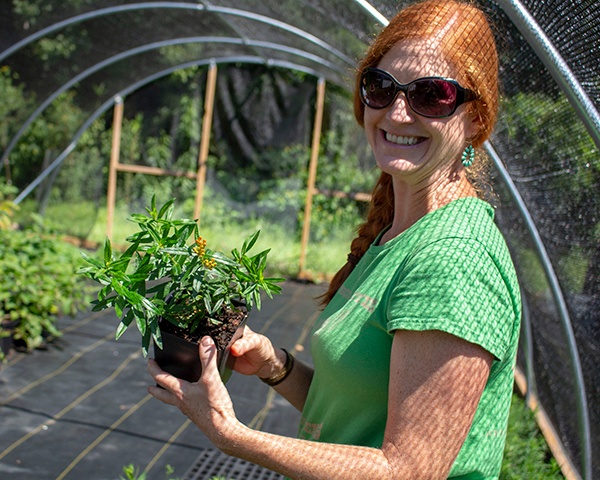 Katy holding one of her milkweed plants.
Soil3 for Topdressing Container Plants
One last growing tip from Katy is to topdress container plants with Soil3 for fertilization.
She uses liquid iron from BioWorks to supplement her slow-release fertilizer, but she also practices topdressing with Soil3 compost. She found that it greens up her plants and says, "another good thing about topdressing with Soil3 is the uniform appearance looks nice in the pot." The final presentation is an aesthetic nuance that is important to detail-oriented growers like Katy.
Katy kindly gave us a tour of her nursery and let us ask her tons of curiosity-filled questions.
Indeed, I came home with 6 plants and have plans to go back for more. As one of the only native plant nurseries in Georgia, Katy is carrying on important work. Her nursery is a gem and a good find for any avid or casual gardener.
She's on the web at nightsongnatives.com and you can find her at all the good plant sales in North Georgia. It was at one of these plant sales that she first discovered Soil3, as a neighbor vendor, because we go to the market days too.
Her website lists her plant availability and there you can also learn more about the importance of native plants . . . can't get away from that education bit!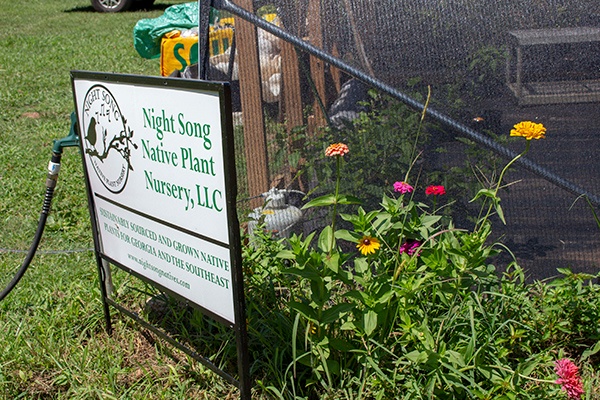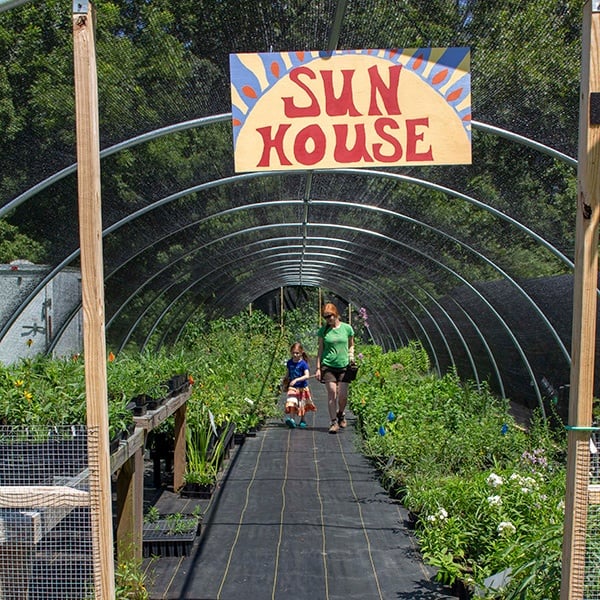 Topics: compost-topdressing, shrubs, flowers, Trees, native plants