Do you want your lawn to take your breath away? Bet you do. With a little up-front effort in spreading Soil3 compost, your seeded lawn will amaze you. When seeding a new lawn, you'll need enough Soil3 for seedbed preparation and for a nutritious mulch and treatment after planting grass seed.
Using Soil3 during seedbed preparation
Till Soil3 into your entire lawn area. Thorough how-to instructions on Seedbed Preparation are on our Super-Sod site.
For seedbed preparation, note that one cubic yard of Soil3 will cover 1,000 sq. ft. Two cubic yards of Soil3 will cover 2,000 sq. ft.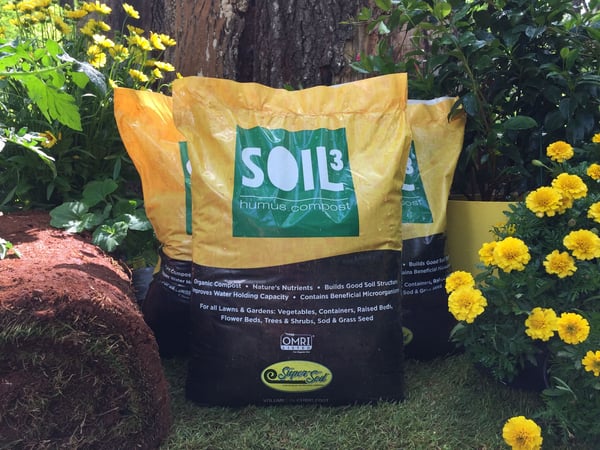 Follow with Soil3 as a nutritious mulch and treatment after planting grass seed.
Using a spreader, spread seed first, followed by an application of Soil3.
Using a spreader or shovel, distribute a very thin layer of Soil3 on top of seeds just to the point of lightly covering (no more than 1/4" thick – any deeper will smoother the seed – adequate light speeds germination). Careful: not too much.
The Benefits
Using Soil3 compost as a nutritious mulch over turfgrass seed, instead of wheat straw, has many benefits. This is applicable in all seeded situations, from the home landscape to commercial sod production.
Wheat straw can smother seeds and seedlings, plus it brings in weed seeds. Since Soil3 is produced via a natural high-heat composting method, it's free of weeds. Additional benefits of Soil3 over wheat straw include adding nutrients, and improving germination and speeding up lawn coverage in two ways: (1) moisture retention of the soil is consistent and (2) Soil3 is black and thus holds heat from sunlight.
Case Studies
Review our case studies showcasing growing a lawn with Soil3 compost:
Video Instruction
Watch our video and learn how to plant or seed a new lawn from grass seed!
Topics: lawn from seed, video, Seeding Best Practices, organic lawns