Preparing the soil is a crucial step in laying new sod. Check out these tips to prepare your lawn to lay new sod:
If renovating an existing lawn, destroy the current vegetation.
Prepare the site by grading so that the soil slopes away from foundations and buildings, thus avoiding drainage problems.
Using Soil3 humus compost: Soil3 should be mixed with the top layer of existing soil. Just raking the Soil3 into the existing top soil is usually sufficient.
Smooth the soil, remove rocks, roots, clods, and vegetation.
Water heavily to see if water puddles in any low spots, and if it does, add soil and/or regrade to eliminate low spots.
Keep soil surface 1/2" below walks and drives. Tilled soil will settle some.
Our experience shows that no preplanting fertilizer is necessary when using Soil3.
Apply and rake in dolomitic lime based on soil test results and based on the type of sod you have. Not all turfgrass needs lime (example: Centipede sod typically doesn't need lime).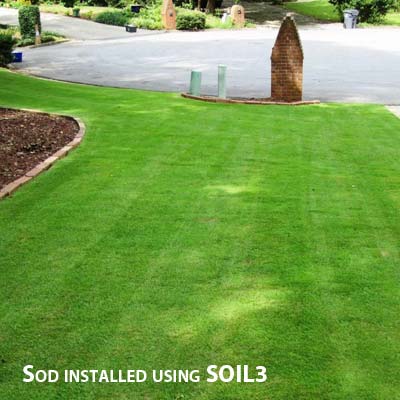 How Much Soil3 To Use
1 cubic yard of Soil3 will cover 1,000 square feet.
Not sure how much you need for your lawn or garden project? Calculate it!
Further sod installation info is on Super-Sod's website under How to Lay Sod. Or, watch the video below!

Ready to prepare for your new sod with Soil3?
We offer Soil3 in a small half cubic foot bag or a cubic yard in a BigYellowBag®. For your convenience, we will deliver the BigYellowBag to your location. You can also visit your local Soil³ dealer to pick up a small half cubic foot bag of Soil³.
Get ready to lay sod with Soil3.
Topics: laying sod, video, organic lawns