As the abundance of summer tomatoes dwindles and we begin to lament the end of the summer harvest, there is one thought that keeps the heart of the gardener from growing cold as the temperatures drop: cool-season vegetables.
Check out Shannon Hathaway's expertise in perfect timing for planting vegetables in this video.
Cool-Season Crops
While zucchini and squash are the plants of choice for many gardeners, we encourage you to step outside your comfort zone and begin to embrace the fresh produce of winter. In the Southeast, consider adding these beauties to your fall planting schedule.
Beets
Broccoli*
Cabbage*
Carrots
Cauliflower*
Kale
Lettuce
Spinach
*Start these vegetables indoors rather than planting the seeds directly in your beds
Follow the recommendations of North Carolina Cooperative Extension Service on the NCSU website. For our friends in South Carolina, check out the Clemson Extension page on vegetable garden timing. The University of Georgia also has suggestions for Georgia gardeners through Extension.
And, of course, follow Shannon's recommendations in the above video.
Make the Harvest Last
Plant consecutive crops to extend the harvest. For example, plant your peas one week, then wait 7-10 days before planting more peas so your harvest is divided up over a few weeks of winter.
Rotate Your Crops from Bed to Bed
To extend the nutrient life of your soil, rotate the crops between beds every 3 years. Follow the chart below for an example.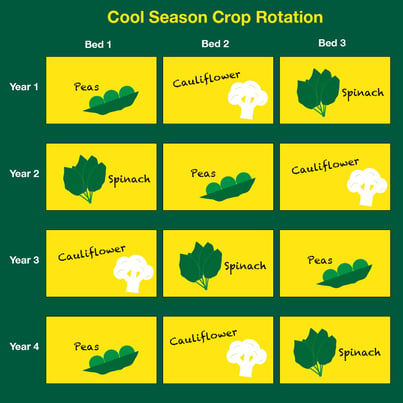 If you don't already have raised beds,Doc's Raised Garden Kits can help you get started on your crop rotation schedule.
Keep Track of Your Plantings
Keep a journal for storing seed packets and noting planting dates — from seed to seedling to transplanting in your outdoor garden. This is handy for tracking which crops you planted in which bed if you plan on rotating crops for soil health.
This journal also works well to record any problems you encounter and the treatments you use to tackle these problems — from pesticides to weed control.
Share Your Cool-Season Favorites
What are your favorite winter crops? Leave us a comment or send pictures of your cool season garden preparations! We welcome guest posts about your gardens or favorite home-grown produce recipes!