If you have a raised bed garden, you're likely aware of its many advantages, including easy access from all sides, the ability to grow plants in areas with otherwise inferior soil, and even water conservation.
While you're busy thinking about the other benefits of raised bed gardening, we're working on ideas to help you maximize those precious square feet within your raised bed. Today's solution: a flat trellis for your climbing vegetables within a raised bed garden.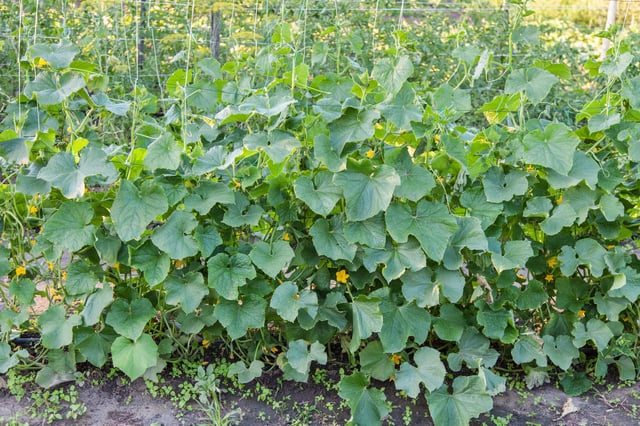 Shannon Hathaway, our resident gardening expert at Super-Sod of Cary, teaches monthly classes in the spring on gardening and turfgrass to her eager audience of outdoor enthusiasts. In the video below, you'll see Shannon's clever tips for constructing a flat trellis for climbing vegetables inside a Doc's Raised Garden Kit. (The dimensions of the Doc's Raised Garden are 4' x 8'.)
If you didn't catch every detail, don't worry. We've got you covered with a recap of materials and instructions.
Supplies
Gardening stakes or sticks of equal length (Shannon's are about 5 feet)
Twine
Thumbtacks, eye hooks, or nails
Fishing line
Instructions
Place one stake at each corner of the short end of your raised bed garden.

Stick the additional upright stakes between them at the edge of the bed, ensuring equal distances between each upright stake. Leave one stake out to use as a cross stake.

For each upright stake, cut a length of twine a few inches long.

Tie the cross stake to the top of each upright stake with your twine. This works best with two people — one to hold the stake and the other to tie.

Stick thumbtacks, screw in eye hooks, or hammer nails into the wall of your raised bed to secure fishing line. Place one or two of these items between each upright stake.

Tie fishing line around your thumbtack at the far end of stakes.

Loop the fishing line up and around the cross stake, then back down to the next thumbtack.

Wrap your fishing line around as many times as you want to create multiple climbing surfaces.

Tie off your fishing line once you reach the final thumbtack and make sure it's secure.

Plant your climbing vegetables in front of the trellis and wait for them to grow!
Vegetable Suggestions
Now you have all of the tools to make your trellis, the detailed instructions, and the inspiration. All you need are the proper veggies. Here's a list of some of Shannon's favorites:
Cucumbers
Ichiban Eggplant
Hops
Peas

Herbs
Don't forget the Soil3 organic compost as a growing medium in your raised garden to help these vegetables "climb to new heights."
Looking for more raised bed inspiration? Check out our Doc's Kit Pinterest Board. We pin creative DIY projects and beautiful garden pictures for you to peruse.
Topics: How-To, Raised Bed Gardening, vegetable gardening, hardscaping