The new year is fast approaching and it's time to map out your goals for the next 12 months. Whether you quickly jot them down on New Year's Eve or map out how you plan to keep your resolve all year, resolutions begin as noble causes.
Here are a few resolution ideas to get you started if you aspire for gardening greatness in 2018.
1. Stay on top of the supply list
Resolve to face whatever Mother Nature throws at you during the unpredictable spring months. Gather your supplies during the chilly days of winter so you're ready when the opportunity for planting presents itself in the spring. This way, you can spend fewer hours at the garden center in the spring. When you do go, reserve that coveted trunk or truck-bed space for your new plants.
2. Use less chemical treatment for pest and disease problems
You can tell we're fans of organic growing because Soil3 is OMRI listed, but our love for natural solutions goes beyond compost. Learn integrated pest management techniques this year to decrease the use of chemicals in your garden. Start with Shannon's simple techniques.
3. Grow produce all year
The sunny months may draw you outdoors, but if you've mastered spring and summer gardening, try your hand at fall and winter gardening. Plan fall vegetable plantings in your raised beds and start growing seedlings in the winter so they're ready for planting in the spring. (Research the best practices for different seed varieties first.)
4. Try new recipes with the year-round harvest
I'm convinced my grandmother makes the best fried okra in the South. It's a staple on our Sunday dinner table. However, venturing from these kinds of old favorites once in a while can lead to new family classics. Our friends at BigYellowBag post great recipes using fresh garden produce. Check out their blog.
5. Shred leaves & save food to start your own compost pile
While you'll need a bulk bag of compost to get your garden started, you can supplement your vegetable or flower garden with compost created at your home. Designate a spot for your compost pile, add food scraps and shredded leaves, and turn it to encourage decomposition and heating. I'm sure you have more questions about the process. Be sure to research the most effective composting practices for your space.
6. Add a piece of garden art that makes you smile
You may be a fan of garden simplicity, but it never hurts to explore new options. Venture to the decorative section of your garden supply store or seek out a meaningful souvenir on vacation. You may find a piece or two of garden art that perfectly showcases your personality!
7. Learn something new from other gardeners
You may be a gardening pro, but there is always more to learn. Get involved with your local Master Gardeners. Whether you become a Master Gardener, call them for advice, or simply attend a spring plant sale and expo, you're sure to pick up some knowledge.
8. Grow an annual you've never grown before
After increasing your garden knowledge, take on the challenge of a new plant. Read up on the best way to cultivate this plant and make it your pet project for the year.
9. Spend more time in the garden
This one is likely on your resolution list every year, but we just couldn't leave it off. A garden is a place of solace and a way to relieve stress. Don't forget to make time for yourself and enjoy a thing of beauty!
Do you have any other resolutions for your garden? Let us know in the comments below!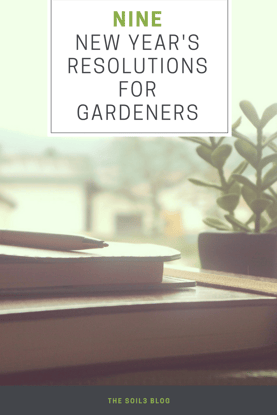 Topics: Pest Control, Seasonal Gardening, Gardening