Guest blogger Laurie Wakefield is a Master Gardener and PR and Marketing Communications Consultant. She loves to spend time in her own garden and visit others, and learn new gardening techniques and tips for healthy living. She is creator of the GardenZeal website where experienced gardeners share their enthusiasm and share great information.
I am delighted to introduce you to my new gardening friend, Robert Williams. Before he retired 8 years ago, Robert touched many lives during his 30-year career as a teacher and band director. His students frequently brought him their damaged instruments and he learned how to repair them. It wasn't long before other band directors heard about Robert's skills and he began to repair instruments for students all around the Atlanta area.
When he retired, Robert bought a large piece of land, built a home on it, and planted a serious garden that he has expanded every year.
Robert Realized Better Results with Soil3
Robert began looking for better soil when he realized that the dirt on his new property wasn't what it should be for growing vegetables. A friend told him about Soil3 organic humus compost and he tried two BigYellowBags of Soil3 last year.
It didn't take long for Robert to see how the rich organic compost soil helped grow stronger, more productive plants. He was so impressed that this year he used Soil3 for his whole garden, and it is bigger and more productive than ever before.
Robert's Roots: Always a Teacher
When he was growing up, Robert's mother had a farm in Hazlehurst, Georgia. She wanted him to get a better education so she sent him to live with her sister in Atlanta. He spent his summers with his mother down on the farm. That's where he learned about planting. After summer was over, he returned to school and began teaching the Atlanta kids how to grow food.
Robert graduated from Clark Atlanta University and earned his Masters degree at Eastern Illinois University. He taught in McCrae, Georgia for 5 years before coming back to Atlanta Public Schools. He lived for many years in the city of Atlanta and always grew some vegetables in his backyard, but he didn't have a lot of room to grow until he bought more land south of the city.
Still a Teacher
I spent a morning with Robert earlier this summer. We compared notes and he shared some great tips and wonderful stories. He took me on a tour of his garden, telling me about each variety of all the vegetables he grows.
His enthusiasm for learning and sharing really shined as we walked up and down the rows. Robert said he likes to experiment and try new things. Every type of vegetable has been carefully labeled and Robert was able to tell me about each one, often offering to give me some seeds to take home to my own garden.
Robert saves seeds and rarely buys new plants. When he does find a plant that interests him he'll buy it and if he likes it, he'll save the seeds to grow it again. He advises, "make sure you save your seeds from one year to the next and you'll save yourself a lot of money."
A Glorious Bounty
Robert grows many types of vegetables, including several varieties of beans and peas, corn, cucumbers, okra, sweet and hot peppers, squash, sweet potatoes and tomatoes, along with some cantaloupe and watermelon.
He's very fond of beans and peas. Although he prefers pole beans, he grows some bush style beans as well. As we walked down the rows, Robert kept pointing and saying, "Now, that's a very good bean."
He remembered every one of their names and stopped along the way, telling me about the qualities of each variety. He also pointed out several examples of beans that could be harvested and eaten as a bean or left to dry then harvested as a pea.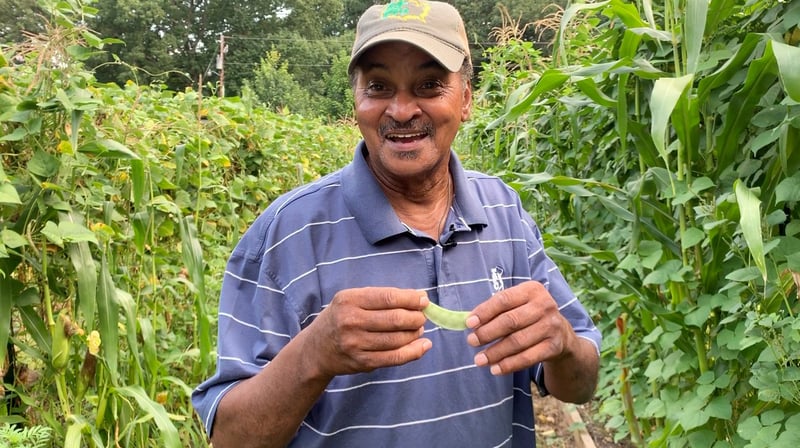 Robert likes to experiment and try different varieties. This Indian Butter Bean was new to his garden this year.
Ten Types of Beans and Ten Types of Peas
This year, Robert grew about 10 types of beans and 10 types of peas, including:
Black Beans
Fortex
Helda
Lazy Housewife
Monte Gusto
Royal Bundy
Indian Butter Beans
Traditional Butter Beans
Speckled Butter Beans
Pink-Eyed Peas
Romano
Seychelles
Slenderettes
Soup Beans (8 varieties mixed together)

Thirty Different Kinds of Tomatoes
Robert likes to experiment and taste different tomatoes, he grew about 30 different types of old favorites, new varieties and heirlooms, including:
Abe Lincoln
Ananas Noire (or Black Pineapple)
Aunt Ruby
Better Boy
Big Boy
Black Sea Man
Black Krim
Box Car Willie
Brandy Master
Get Stuffed
Green Zebra
Indigo Blue Cherry
Jet Star
Juliette
Lillian Yellow Heirloom
Moon Glow
Red Brandywine
Roma
Robert picked a few beautiful tomatoes as we walked and said, "These won't stay in your hand long!"
Growing Well and Eating Well
The extensive vegetable garden covers about an acre today. He has a nice tractor and does most of the work in the garden himself. Although, he does have a few friends that come and help when he needs an extra set of hands for certain projects.
We spoke again recently and he was excited to tell me that I need to come back and see the new green house that he's built since my last visit. He has filled it with Soil3 and can't wait to get his fall and winter garden started.
Robert harvests, cooks, cans, pickles, and freezes his produce. He knows how to cook a lot of things, especially beans, which he enjoys eating with sliced tomatoes.
Robert loves to grow well and eat well. It's hard work but he says, "If that's what you like - you do it."
Topics: video, vegetable gardening, tomatoes, soil3 stories