Guest blogger Laurie Wakefield is a Master Gardener and PR and Marketing Communications Consultant. She loves to spend time in her own garden and visit others, and learn new gardening techniques and tips for healthy living. She is creator of the GardenZeal website where experienced gardeners share their enthusiasm and share great information.
Rich Blood is the Pepper Guru. He learned about growing peppers and the importance of good soil from his father. He was a taste-tester for his dad and fell in love with the wide variety of heat and flavors by the age of 10. Since then, he has continued to study peppers, soil, and the best ways to grow the healthiest, highest yielding plants. His container pepper garden is absolutely stunning!
108 Containers Filled with Soil³ and a Spectacular Pepper Plant in Each One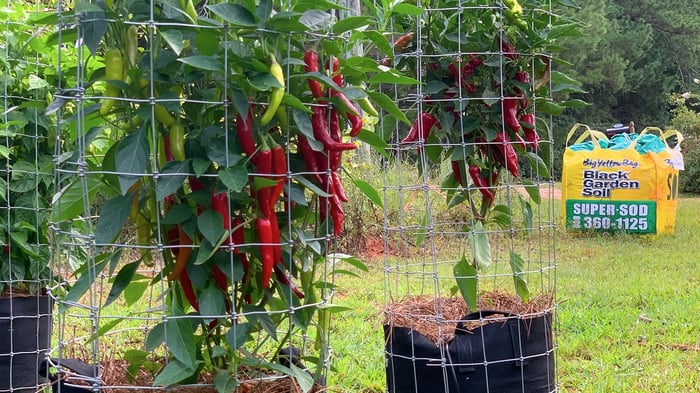 Rich has over 100 of these 15-gallon grow bag containers filled with Soil³ compost. Cages provide the support needed for his pepper plants to produce high quantities of fruit.
Rich loves everything about peppers. He cultivates, hybridizes, and grows a wide variety including ornamental and wild peppers from around the world. This year, the majority of his containers were 15-gallon grow bags filled with Soil3 organic compost but he grows in containers up to 65-gallons.
Rich believes in developing and planting in rich, organic soil that doesn't require much fertilizer. He is impressed by the amount of organic matter in Soil3. Since he began using it, he hasn't noticed any disease or nutrient deficiencies. With Soil3, his pepper plants have been very healthy and productive, and pests have been minimal.
Music in this video is a sample from Rich Blood's alternative rock band, Votive.
A Real Pepper Guru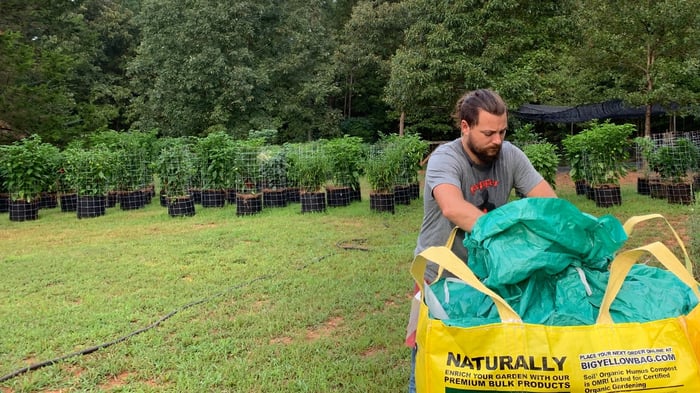 Rich says, "It's really all about the soil."
By day, Rich runs Guru Gardens Landscaping, a residential and commercial lawn and landscaping service company in Henry County, GA. He spends his evenings and weekends playing guitar in the alternative rock band, Votive, and tending his magnificent pepper garden.
Peppers, Aji, Chiles, and Pimientos
Rich explains that people in South American and Central American nations and local villages use different words like Aji, Chiles, and Pimientos interchangeably when they refer to peppers. He also describes how in some countries, peppers are used like condiments with every meal, like Aji Charapita and Aji Cerezo in Peru.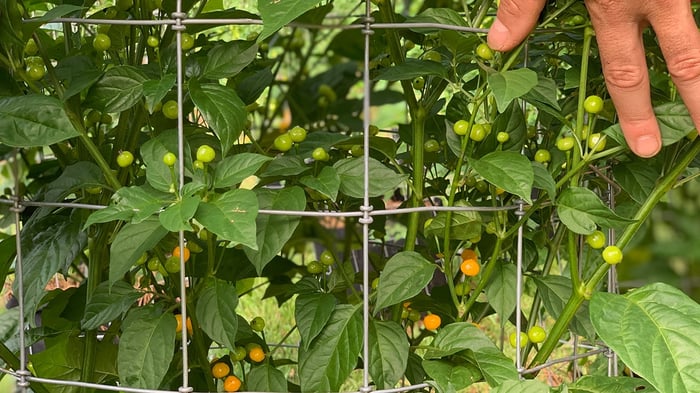 This pea-sized pepper packs a lot of punch! In Peru, Aji Charapita is served like a condiment with every meal.
He travels the world hunting for new peppers, meeting other pepper growers, and bringing sample cuttings, plants, seeds, and even pollen back to cultivate and grow here in his Georgia garden. This month he is traveling in Bolivia to hike and conduct field collections of wild pepper species.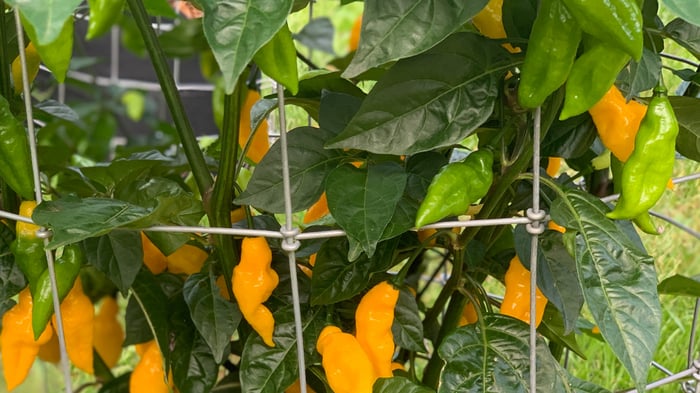 Aji Limo - Capsicum chinense is another Peruvian pepper.
Rich remembers the genus, species, cultivar, and qualities of every pepper in his garden. He talks about them like he's discussing fine wine, describing fragrance, flavor notes, and levels of heat. He makes recommendations for how each type of pepper should be eaten and advises which peppers are best for new enthusiasts to ease them in to hotter varieties.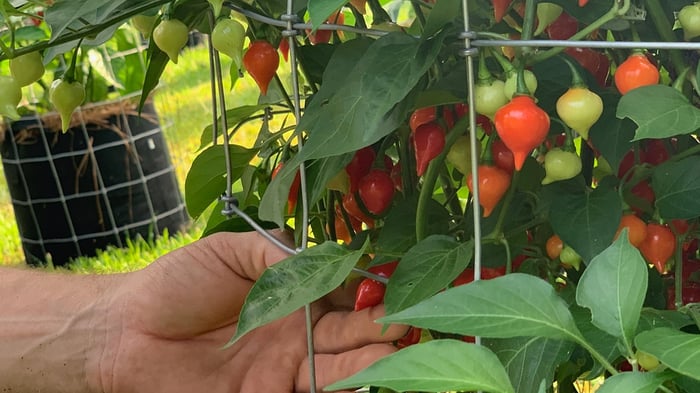 Rich said, "The Biquinho Sweetie Drop has a hint of heat at the finish and is a good one for beginners who may need to work up to the really hot peppers."
Rich described the 'Black Pearl': "It's a beautiful plant with a clustering fruit habit. As you can see, the foliage is a beautiful jet black with a dark green underside and it is purple flowering." Then he described the flavor, "It's a little bit spicy, kind of like a Jalapeño Cayenne, a Rooster Spur, or a Thai Annuum. It's a good pepper to throw a couple in your bag for taking to lunch or something."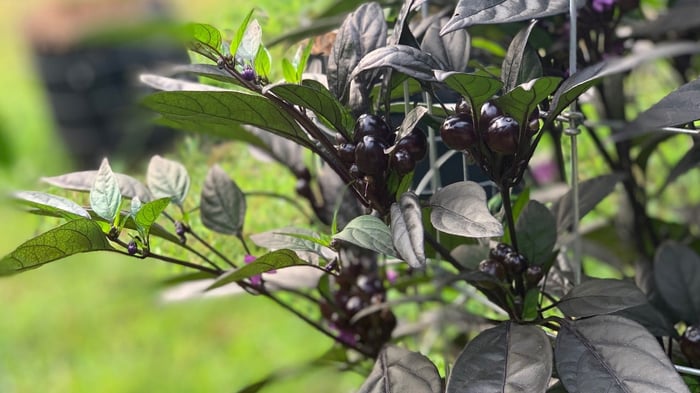 Capsicum annuum 'Black Pearl' is a medium hot pepper. It is milder if eaten when the peppers are black (or purple) and gets hotter as it matures to red.
This year, Rich grew 108 pepper plants with 100 different varieties in his container garden, including:
Aji Charapita
Aji Limon – 'Lemon Drop' Capsicum baccatum
Aji Limo – Capsicum chinense
Aji Mango
Aji Omnicolor – Capsicum baccatum
Biquinho – 'Sweetie Drop'
Black Pearl – Capsicum

annuum
Cappuccino Scotch Bonnet
Hangjiao Comet's Tail
Jack Patton Rooster Spur
Korean Gochu
Puna Miris – Capsicum annuum
Purple UFO
Thunder Mountain Longhorn
Sharing a Passion for Peppers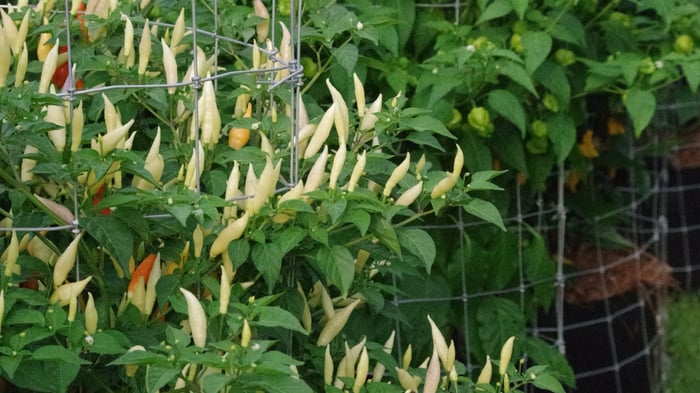 Aji Omnicolor is a great choice for edible, colorful landscaping. It is a stunning compact, ornamental pepper that provides a bounty of fruit with a medium-high heat. You get a rainbow of colors as peppers start very pale yellow and mature at different times to shades of yellow, purple, orange, and red.
For the last 20 years, Rich has been sharing information about peppers with friends and leading online communities including: the TheHotPepper.com, @RealPepperGuru on Facebook, as well as the Facebook group @GuruCultivatorsCollective. He also shares fantastic video on his Pepper Guru YouTube Channel.
This month he'll be launching ThePepperGuru.com website, where he'll continue to share blogs and information and soon will be opening an online store, offering seeds and pepper related products.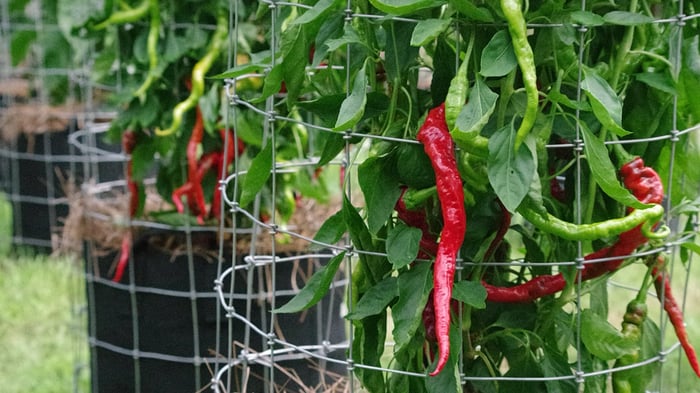 Hangjiao Comet's Tail. Hangjiao means "space pepper" in Chinese. Comet's Tail is one of the several varieties of seed that Chinese scientists sent to space where zero-gravity conditions resulted in high yield plants.
Here at Soil3 we love growing vegetables and especially love peppers! During the summer you will likely find employees growing pepper plants in Soil3 organic compost at our parent Super-Sod stores. Like Rich, we plant straight in Soil3 and don't add fertilizer. Our robotics specialist Nick Sagnella's process is described in "A Guide to Growing Ultra Hot Peppers."
If you are inspired to start growing your own peppers, check out the links we've provided and comment below if you have any further questions. One of our experts will answer your question right away.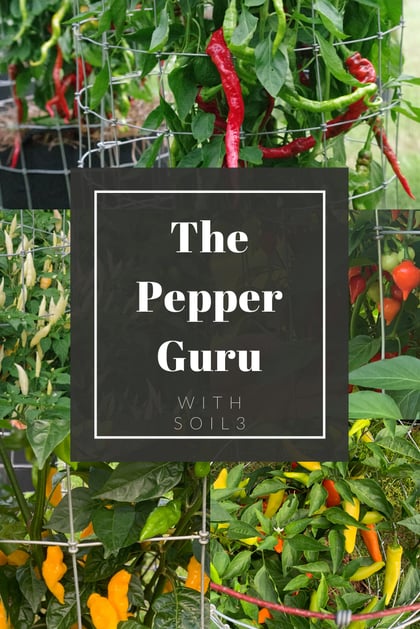 Topics: video, vegetable gardening, Peppers, containers and raised beds, soil3 stories