Container gardening doesn't always mean that your plants will be basking outside in the summer sun, only to be tucked inside the garage or shed during the chilly days of winter.
One of our favorite ways to add some green to cold winter days is by incorporating a potted evergreen into winter décor.
Choose an Evergreen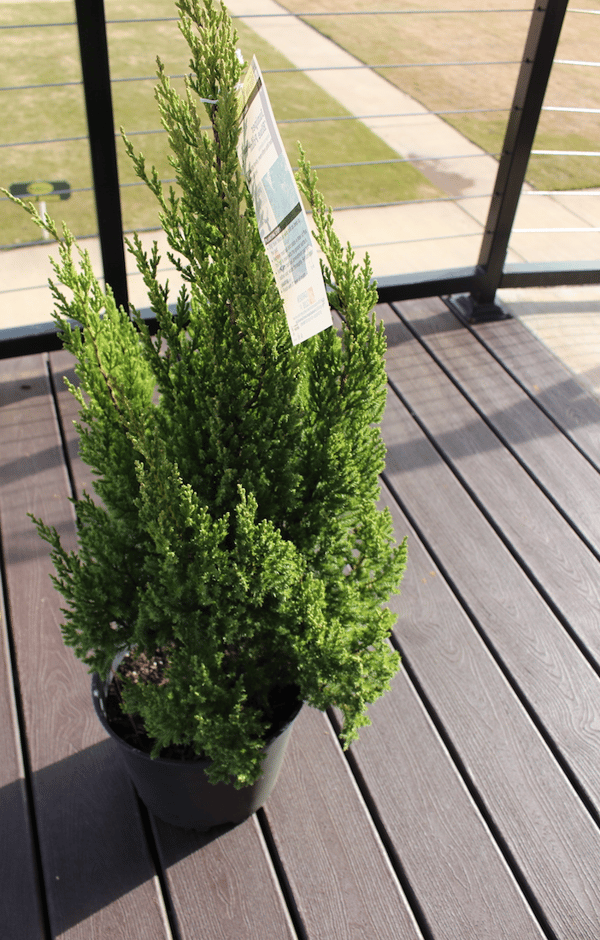 Roots are more fragile aboveground than the foliage in the open air. A tree growing in your yard may be able to withstand more cold than one in a pot because underground soil temperature is much different than air temperature.
For the Southeast, consider the following options:
Growing Zones 6: blue spruce, Brown's yew, Winter Gem boxwood, any type of dwarf Alberta spruce, dwarf hemlocks
Growing Zone 7: Winter Gem boxwood, any dwarf Alberta spruce, dwarf hemlocks
Growing Zone 8: Leyland cypresses, red cedars (a type of Juniper), Winter Gem boxwood, or any of the plants for zones 6 and 7, though they won't do well in the hot summers of zone 8
The one we use here is a Blue Point Juniper. We chose this tree because it can survive in the cold of Southern winters without coming inside and it will do well in our hot summers. This is perfect to add a touch of elegance and life to your porch.
Take Size & Color Into Account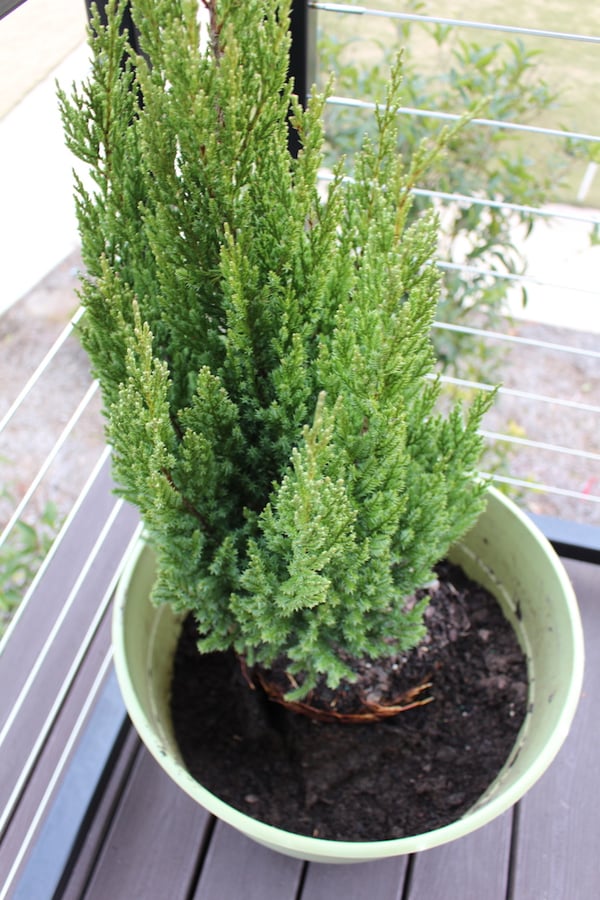 When choosing a pot, you want to consider just how large the plant will get. Is the tree already full-size? If not, you want to give it plenty of room to grow in the pot you choose.
While red and green are excellent colors for the holiday season, be sure to select something that will match your outdoor décor year-round.
Protecting Your Plant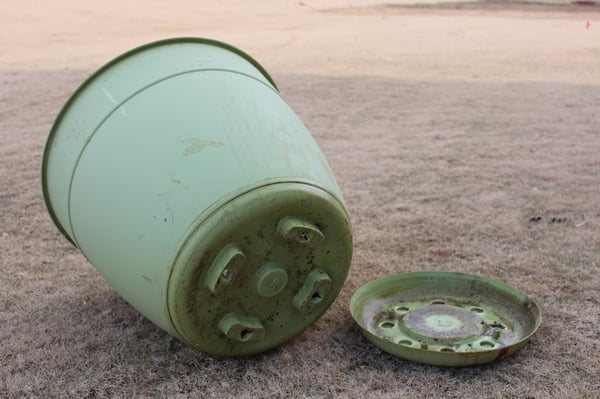 The trunk and leaves of an evergreen tree are more resilient to the cold than its roots. And because you'll be leaving those roots more exposed to the winter cold above ground, you'll need to ensure proper insulation. You can do so by purchasing a foam planter, filling your planter with plenty of soil, or adding a layer of foam around the edge of your planter before adding soil.
Be sure to protect your evergreen from drowning by choosing a pot with holes in the bottom. We'll talk a little more about drainage below.
Consider Evergreen Placement
Depending on which option you choose for insulating roots, your tree may be a little heavier. Factor this in when deciding where to place the final pot. You will need to move the pot into its intended position before you begin filling with soil and increasing the weight.
Before planting, consider how much water your tree will need and whether you'll need to take water runoff and ease-of-access into account in your placement. If you don't see your plant daily, chances are you'll forget to give it a drink.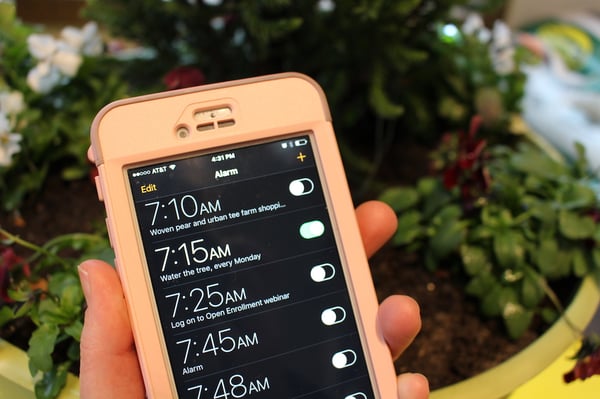 Helpful Tip: Set a timer on your phone to alert you during a time when you're typically at home on each day the plant should receive water. Building this into your routine will ensure your plant lives to see another season.
Also, ensure that the tree will receive sufficient sunlight by researching the amount of sunlight the specimen needs and measuring the sun exposure where you plan to place it. The Blue Point Juniper requires full sunlight and watering weekly in a container, but once it's established water only when dry.
Plant That Evergreen!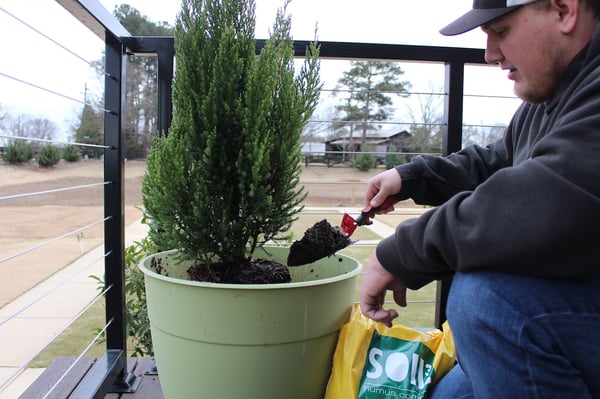 Choose a well-draining soil that your tree will love. Soil3 organic compost is full of nutrients and you can plant your tree straight in it. Plus, you can topdress you container tree with it year after year to give you plant that extra oomph.
If you chose to line the edges of your planter with foam, shape the foam to the inside of your planter before adding anything else.
No need to fill the bottom of the planter with rocks (studies show it doesn't really improve drainage), but if you have an oversized container, you can fill the bottom with recycled Styrofoam packing material (the big stuff used to package appliances – break it up a little to make it smaller) to fill up some of the extra volume. Then begin adding soil until the top of your plant will be a couple of inches below the lip of your pot. Place your plant in the pot and then continue to fill the rest of the way with Soil3.
Keep adding soil until your tree is secure but without packing the soil down into the container and make it too tight. Don't pack soil around the base of the tree to avoid smothering roots.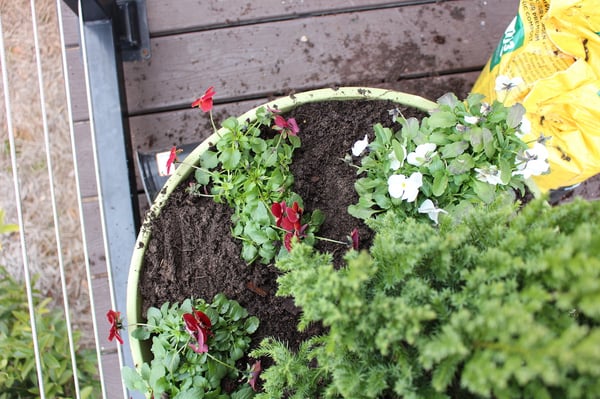 You can also add other foliage around the base of your tree for some additional color. We added white and red violas to our pot for winter interest.
Decoration Ideas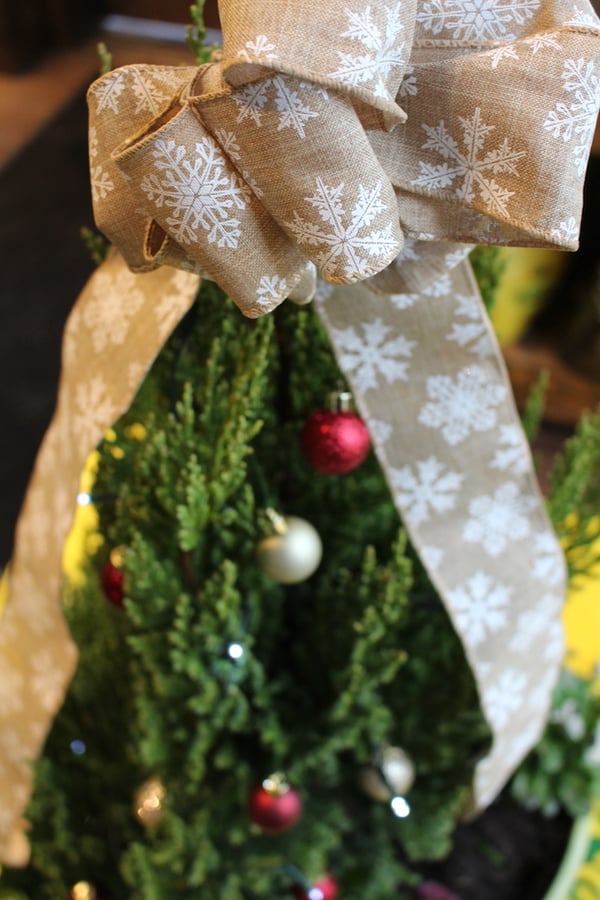 Once your tree is in its pot and filled with Soil3, it's time to start decorating! Make sure it's securely upright and add some Christmas cheer to your greenery.
Add some red – Red and green are fabulous contrast colors that each make the other pop! Consider adding some winterberries or holly for a natural touch. If you're lucky enough to have a coral bark Japanese maple, prune some of the branches and add it to the base of your plant.
Fill it out with ribbon – When a tree is large, there's nothing that can add dimension like ribbon. You can use red to make it pop, gold for a more traditional feel, or burlap to maintain a rustic theme. Even if you aren't skilled at typing bows, wrap the ribbon around the tree for a whimsical feel.
Use your natural surroundings to make your tree blend in – the rustic feel of twigs or branches reminds us that the tree will live outside and thrive! Collect pinecones or pick some up from the craft store for a natural look.
Add resilient ornaments – add small, weatherproof ornaments or decorations that show off your personality. You can search your local dollar store or craft store for the right amount of personal flair.
Share Your Creation
To spread the holiday cheer and show us your healthy potted plant, share on social media and tag us @soil3organiccompost on Instagram or on Facebook here. We can't wait to see what you create!
Ready to get going? Purchase a BigYellowBag of Soil3 online or swing by your local Super-Sod store to purchase a Mini Cube to fill up the planter.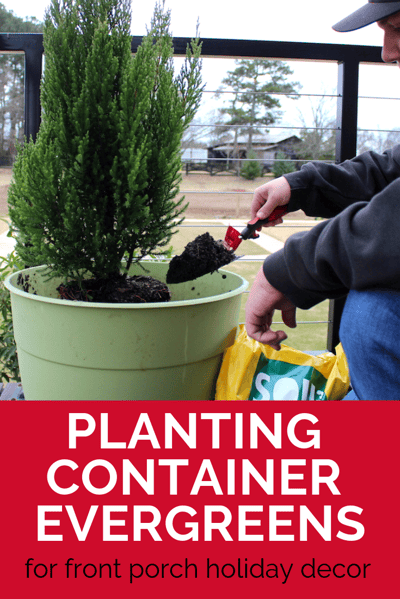 Topics: Seasonal Gardening, container garden, containers and raised beds