By Amy Hudson, Food Well Alliance Guest Blogger
There's nothing like eating fresh, local food. Especially when it comes from your own garden, your child's school garden, a nearby community garden, or farmers markets that source from local farms.

Soil Festival participants enjoy cooking demonstrations by local chefs with locally grown fare, and tasting is the best part! Photo by Jennifer Girtman.
We know we need sun and water to grow healthy food. But there's another element we cannot miss. Healthy soil. When it comes to ingredients for successful gardening, healthy soil is right up there with the sun and water. How do you know if your soil is healthy? One way is to be sure you're using good compost. It's the healthiest soil you can find without using chemicals or pesticides.
At Food Well Alliance, we know that healthy soil not only grows healthy food, but also healthy communities. The heart of our work is collaboration with leaders in Atlanta's vibrant local food movement - community gardeners, urban farmers, educators, policymakers, funders, and social entrepreneurs - like our friends at Super-Sod, who are passionate about creating greater access to healthy, locally grown food.
Food Well Alliance's annual Soil Festival is a day of honoring this collaborative work and a chance to celebrate the earth beneath our feet. We invite you to join us next Saturday, May 5, for Soil Festival 2018 at Truly Living Well's Collegetown Farm in SW Atlanta. The event is free, family-friendly, and offers something for everyone: gardening and composting workshops, farm-to-table tastings and cooking demos, kids activities, soil testing, music, farm tours and experts on hand to answer your questions in our exhibitors area.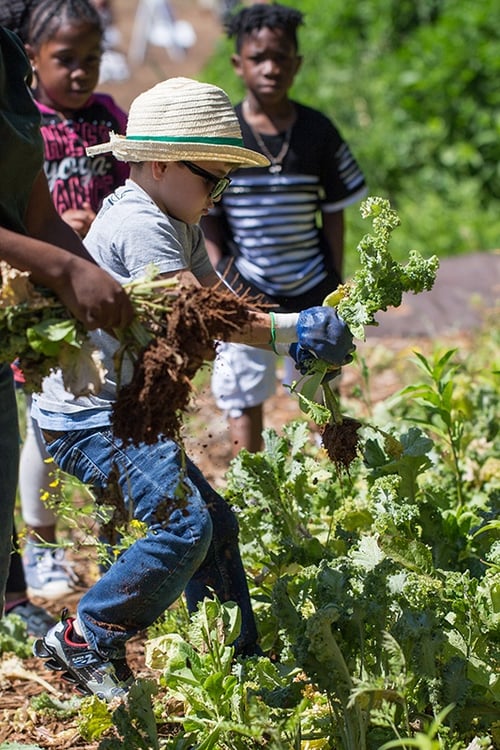 There are several activities planned specifically for kids at Soil Festival, including harvesting produce at Truly Living Well's College Town Farm. Photo by Jennifer Girtman.

We're delighted that Super-Sod will once again have a booth at Soil Festival. We love their enthusiasm for sharing what they've learned about healthy soil. If you're a member of a community or school garden, be sure to stop by their booth and sign up for a chance to have up to 3 cubic yards of Super-Sod's Soil3 organic compost delivered straight to your garden!
While we celebrate healthy soil and the progress being made here in Atlanta and across the U.S., there are still huge strides to be made. According to a 2016 report conducted by ReFED, A Roadmap to Reduce U.S. Food Waste by 20%, 52.4 million tons of food is sent to landfills across our country each year. And local market research conducted by Food Well Alliance in 2015 showed other opportunities for improvement. The study showed that one of the greatest challenges facing our 300 community gardens and 52 urban farms in Clayton, Cobb, Dekalb, Fulton, and Gwinnett counties is access to nutrient-dense, quality compost for healthy food production. For this reason Food Well Alliance, in partnership with EPA, launched Atlanta's first Community-based Compost Council in order to raise consciousness and awareness about the nexus of food waste and food production in a city like Atlanta. Learn more about Food Well Alliance's work around compost and urban agriculture here.
You can be part of the progress we'll make towards building healthier communities across metro Atlanta. Soil Festival is the perfect opportunity to discover how you can play a role. We hope to see you there! Learn more about the festival and RSVP here.
After many years serving as senior communications manager for the Atlanta Community Food Bank, Amy Hudson recently started her own marketing and communications business. Food Well Alliance is one of Amy's favorite new clients. Since she began working with the Alliance in March, her eyes have been opened to new ways of thinking about food. She's now shopping at local farmers markets and has applied for a plot at her local community garden. She's looking forward to her very first Soil Festival!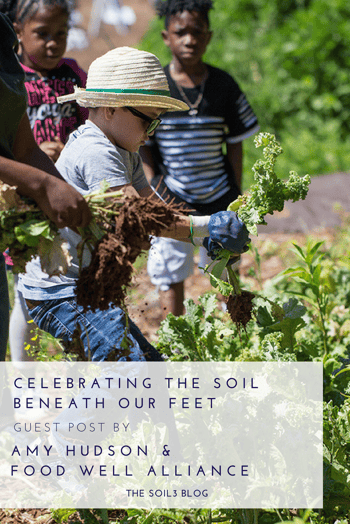 Topics: community and schools, festivals & events