Brie The Plant Lady is here to help you tackle the harsh landscaping conditions of a newly constructed house in her latest Soil³ blog installment.
Gardening in a newly developed neighborhood is HARD. To be honest, gardening on Mars may be easier. For more than a decade, it's been my ongoing challenge as a horticulture professional to design for the extreme conditions of a brand-new landscape. Too often the most important thing is not addressed from the start… SOIL!
Follow the beginning of my journey to help my parents transform the landscape around their new home in Aiken, SC. We enlisted the help of a professional landscape designer for a plan to submit to the HOA and to install the main garden framework. And then employed Soil³ organic humus compost to improve soil conditions for healthy plants. But first, let's discuss why this was such a challenge!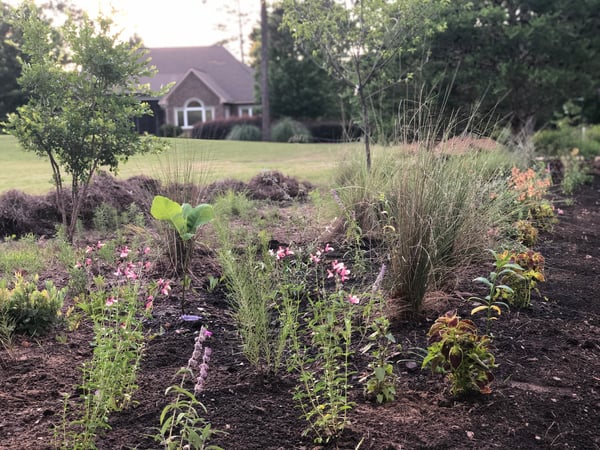 We amended beds with Soil³ organic compost to provide the nutrients and the ability to hold moisture needed for our pollinator-friendly perennials and edibles.
Clearing The Way – and All The Topsoil
The land is scarred after development - in a big way. I always say there is nothing native about new construction, including the soil, which is, of course, the most important thing for long term success with plants. Here in the south, former woodlands are cut down to make way for the sprawling suburbs, and often that healthy "native" topsoil is scraped off and sold so that builders can carve out a new landscape, complete with houses.
I totally understand why the top soil is removed, especially in track building. It is imperative that the foundation of your home be on solid ground. Grading specialists are usually the first to start working in a new development, carving out roads, drainage, sewer lines and foundation areas, while compacting the soil with their heavy equipment. If you have ever gone to a construction site, you will know exactly what I am referring to. You would find it very difficult to get a shovel into that ground.
I have experienced this myself when I purchased my first home in 2005. Situated in Johnston County, NC, I expected to have a yard full of sandy native soil to cultivate into planted beds. Instead, I was shocked to find sticky, yellow and grey clay! That's when it hit me. The developer had to change the grade to build on the lot I had purchased, thus trucking in non-native soil. I remember instantly having buyer's remorse. If only I had brought a shovel when I was looking at the property. Needless to say, I do that now!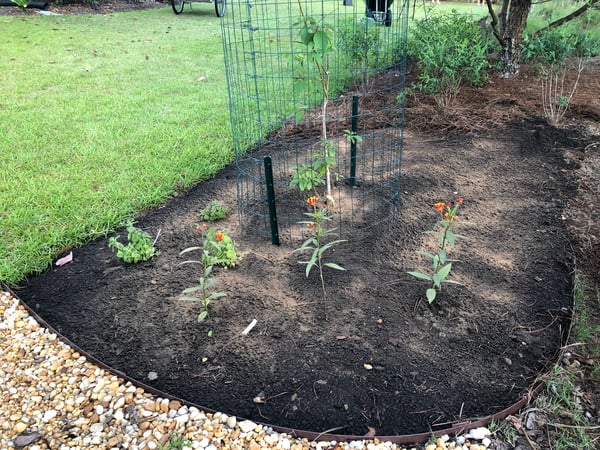 Soil³ organic compost can be used for topdressing around shrubs and plants as well as for covering seeds to ensure successful germination. We topdress entire beds, not just around individual plants.
Applying a Green Band-Aid
Once the houses are built, landscape contractors arrive to hide the wounds of development. Tidy green patches of sod are rolled out and evergreen shrubs are assembled like soldiers along the foundation of the house, but rarely is replacing topsoil a consideration. Sometimes irrigation will be installed to delay the inevitable decline in plant health that usually occurs after the new homeowners have moved in.
My Parents Migrate South
Last year my parents retired to Aiken, SC after over 30 years in southeastern Michigan where gardening is easy, albeit short lived. Learning to garden in the South is a challenge in and of itself but learning to garden in a newly developed landscape is SO MUCH HARDER! When I visited their new home for the first time, before they had even moved, I reported their landscape was horrendous and they should not have bought the house! To which my dad replied, "Isn't that why we sent you to college to study horticulture?" True, it is technically my job to provide solutions for situations like this and clearly, I had a new challenge on my hands.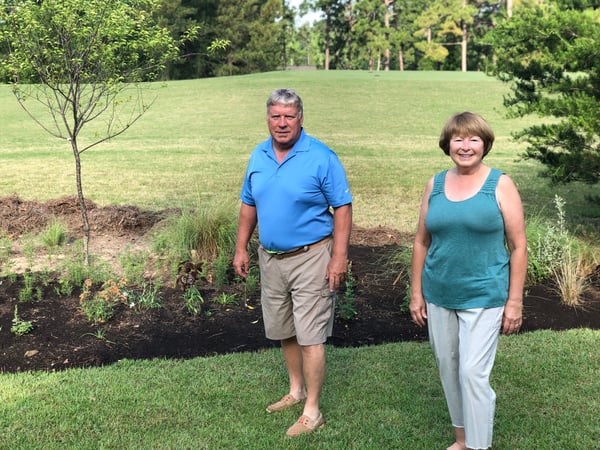 My parents are excited about retirement in the milder climate of Aiken, SC - and looking forward to transforming their new landscape into a garden.
Expert Planning for Success
The first step was to hire a local landscape design expert, Jenks Farmer. He could provide an ideal base map to show fundamental changes, ideal plant selections and adjustments to the existing, builder-grade landscape. This plan would be submitted to the neighborhood HOA's architectural review board for approval before starting on the new garden. This being my parents first ever HOA experience they were worried, but I assured them with the guidance of an expert their plan would be approved, because the HOA wants you to have a beautiful home and their job is to make sure the changes you propose will keep property values high.
Thanks to Jenks' vision and the hard work of his team, their new landscape was transformed with sustainable, beautiful plantings including many edibles like Pineapple Guava and Pomegranate! Jenks incorporated native plants that thrive in the warm Zone 8 climate and selected specimens that attracted beneficial pollinators through-out the year. Within 3 months of moving in, the landscape that made me think twice when I had first seen it had become a beautiful, functional display full of southern charm.
A local landscape designer planned and installed the beds with shrubs and native grasses. Now we have started filling in the spaces with perennials, edibles and annual seeds for what will become dense plantings.
Turning the Landscape into a Garden – and My Parents into Gardeners
After phase one, mom and dad were now in charge of managing this landscape - they were starting their journey as gardeners in the South. They always admired my bold approach to growing, by filling in open areas of the landscape with seeded annuals. It is important to note, there is a BIG difference between a garden and a landscape. Though not commonly realized, a garden is an ongoing experience, an effort and exchange of growing plants and tending the land; cultivating with precision and purpose. A landscape, on the other hand, is sort of the equivalent of redecorating your house every decade. Shrubs are installed with low maintenance expectations and every ten years or so you re-evaluate it because they have overgrown the available space. Gardening infers constant interaction, whereas the assumption with a "landscape" is that you will do very little. I encourage you all to become GARDENERS - it is a very rewarding hobby that will provide ENDLESS entertainment - and you never have to leave your house!
As we sprinkled those first cool season flower seeds on the bare clay earth, I worried the soil had not been enriched enough to support these dense, annual plantings. Reflecting on my own, very successful experiences, I had forgotten the most important component: the soil!
After a few weeks my mom reported that her seeds were finally germinating, but much to my dismay, were small and stunted and lacked the vigor that I was accustomed to. Though well suited for hardy trees, shrubs and native perennials that can tolerate lean soil, these seasonal displays required richer ground to thrive in. As each month passed, and my plants grew to no end, hers remained dwarf.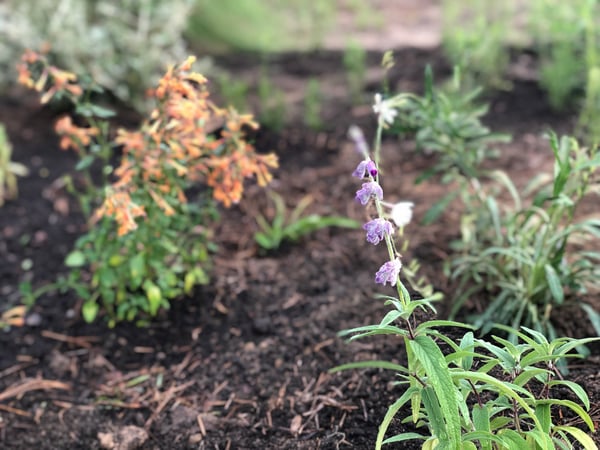 Salvia and Agastache planted in beds amended with that beautiful, dark Soil³ compost!
Using Soil³ Organic Compost to Topdress Around Plants
With one season under their belt, my parents decided there was a simple solution: investing in Soil3 organic humus compost. They had seen the results in my garden for years and were determined to make their new garden in the South just as lush. With two BigYellowBags of Soil3 in the driveway they set out to topdress all of the open areas of the landscape. To their shock, they could actually see the difference in just a week! Plants started to turn greener and flower buds swelled. Yes, within seven days the magic of Soil3 was visible!
Amending the Beds with Soil3 to Plant Perennials and Seeds
Fast forward to mid-May when my husband David and I were visiting for the Aiken Garden show - a great event with educational sessions, garden tours and vendors. We were keen to help my parents establish a pollinator border along the front of the property, but it also had to be "deer proof" (a term I do not believe in). Thanks to several amazing nurseries at the garden show we were able to purchase everything we needed!
The soil in this space had not been amended and there was limited irrigation access. Jenks had already created a beautiful display using native grasses and shrubs, but to enhance those plantings we wanted to fill in open areas with seasonal flowers and vegetables. With a full bag of Soil3 compost available, we worked as team: dad removed the pine straw mulch; David loaded the Soil3 into wheelbarrows; and I spread the compost and planted. It took less than an hour to transform this bed into a vibrant, pollinator-friendly border that would thrive in the sunny conditions of western exposure. To reduce weed pressure, we added a thick topdress of Soil3 and planted densely.
The plants we selected included many perennial varieties of Agastache, Brugmansia, and Salvia in addition to edibles such as dill, peanuts, pumpkins, and squash. We also scattered seeds of cleome, sunflowers, and mildew-resistant zinnias.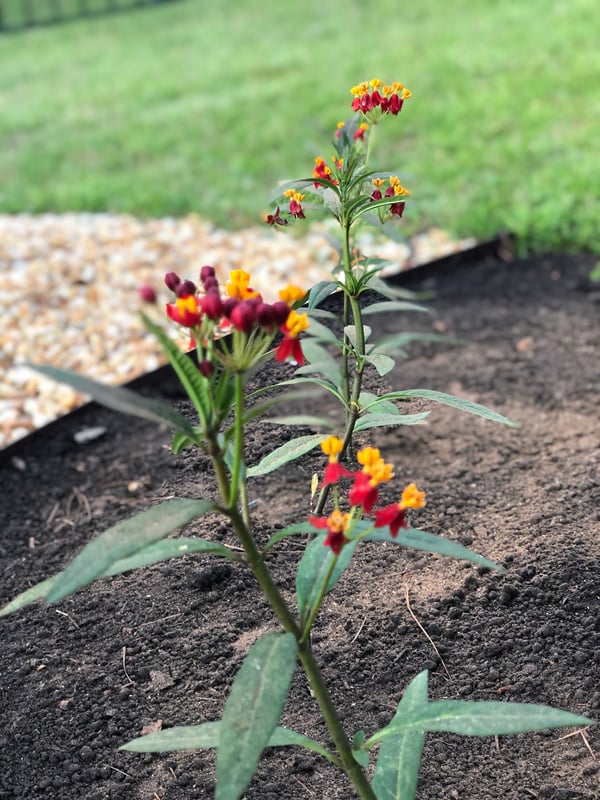 We planted Tropical Milkweed in our pollinator-friendly beds - the flowers are a source of nectar for butterflies, bees and hummingbirds, and the leaves provide food for Monarch caterpillars.
Just Add Water – Until Established
Two solid weeks of record-breaking heat and drought followed the installation. Dad became devoted to moving hoses and sprinklers until he decided to hire a professional and upgrade the irrigation system. Of course, once established, these plantings will require very little supplemental water. But it is always nice to have a backup plan!
Watch This Space (or Blog) for Updates from Aiken
I am thrilled to have the opportunity to share this experience with you and my parents, and to test the limits of my favorite plants in warm Zone 8, a region I have never grown in before. Stay tuned for updates as I return to see their property in the middle of July!
Until then, happy gardening and stay cool y'all,
Brie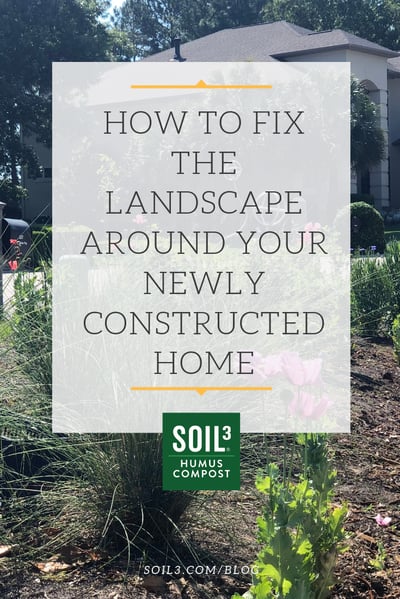 Topics: Topdressing, flowers, soil preparation, landscaping, ornamental gardening